Sometimes, after a particularly tiring day, what really helps you relax is a plateful of your favourite comfort food. For some it's Khichdi, for others like me it could be rice and rasam, a bowl of Maggi, or even a simple bowl of French fries with ketchup. Such food has the ability to cheer you up and energise you like nothing else can. Check out what five food influencers have to say about the comfort food that they turn to. What's more, they share a recipe that you can try out too.

Saee Koranne-Khandekar,
Author; Co-founder, Scrollific Content Studio


"I think one of the foods I turn to when I'm craving a sense of familiarity and "hominess" is Bhakri. It doesn't matter what flour it is made of, and it doesn't matter how well it is made as long as it is hot; straight off the naked flame. It needs little else, a slathering of homemade cultured butter and a chutney, perhaps. Or a leftover vegetable. But when I tear off that first morsel and inhale the aroma from the tendrils of steam that burst out, I am taken back to my grandmother's kitchen, where she would be patting Bhakri out with the utmost elegance, each one puffing up and bursting at the seams. I would be seated on a high stool in the kitchen, watching her cook and downing Bhakri after hot Bhakri without a care in the world! Later, when I was an adult, my mum had a cook who would make excellent Bhakris, and I would often sit down on the kitchen floor, spoon any available bhaaji in the centre of the Bhakri and eat it slowly, tearing one bit of the circumference and then turning it to tear another. There were no distractions, just the meditative calm of the rhythmic patting of the Bhakri dough and the sweet smoke of Jowar filling the kitchen". This recipe, Raadi Chutney, is my grandmother's raw mango chutney, and I love to eat it with Bhakri-together, they are my comfort food.



Recipe for Raadi Chutney
Ingredients:
• 1 medium-sized raw mango
• ¾ cup jaggery (more or less depending on the sourness of the mango)
• ¾ cup grated dried coconut
• 8-10 dried Kashmiri chilies (adjust the number according to taste)
• 1 teaspoon fenugreek seeds
• 1 tablespoon vegetable oil
• Salt to taste
Method:
 Peel and grate the mango.
 Lightly fry the fenugreek seeds and the chilies (separately) in the oil. Remove when fragrant.
 Place all ingredients in the blender and grind to desired consistency. Use no water at all.
 Decant into a dry jar and store for about 10 days in the refrigerator.


Neha Mathur
Owner, Whiskaffair


"I was never a picky eater and ate whatever my mom made at home. But Khichdi was always number one on my comfort food list. Whenever I craved for something homely, comforting and soul satisfying, the answer was always Khichdi and till date that has not changed. I can eat khichdi with just a drizzle of ghee or jazz it up with coriander mint chutney, golden fried onions, curd and pickle. I can eat it loaded with veggies or with just a simple tempering of zeera. Over time, I have experimented a lot with this humble dish and keep changing the grain used in making Khichdi. I now use millets, oats etc, instead of rice sometimes. I have started to use healthier and varied grain to cook my Khichdi and this Oats Khichdi has become a favourite. Here is my simple recipe to make it.



Recipe for Oats Khichdi
Ingredients
• 1 cup Rolled Oats
• 1/2 cup Dhuli Moong Dal / Split Yelow Lentils
• 2 tbsp Vegetable Oil
• 2-3 Cloves
• 2 inch Cinnamon
• 4-5 Black peppercorn
• 1 tsp Cumin Seeds
• 1/4 tsp Hing
• 3-4 Dry Red Chillies
• 1/2 cup Onion Chopped
• 1 tsp Ginger Grated
• 1/2 tsp Turmeric powder
• Salt to taste
• 1/4 cup Carrot Cut into small pieces
• 1/4 cup Beans Cut into small pieces
• 2 tbsp Corn
• 2 tbsp Peas
Method
 Heat vegetable oil in a pressure cooker.
 Once the oil is hot, add cloves, cinnamon and black peppercorns and fry for a few seconds.
 Add cumin seeds and heeng and let them splutter for a few seconds.
 Add dry red chillies, onion and ginger and fry until onion turns translucent.
 Now add oats and dhuli moong dal along with 4 cups of water, turmeric powder, salt, carrots, beans, corn and peas.
 Pressure cook the Khichdi until done. (Approximately 1 whistle on high heat. Simmer and cook for 2 whistles on low heat )
 Remove the pressure cooker from heat and let the pressure release.
 Serve Khichdi with a dollop of ghee, papad and raita.

Anisha Oommen and Aysha Tanya
Co-founders and editors of The Goya Journal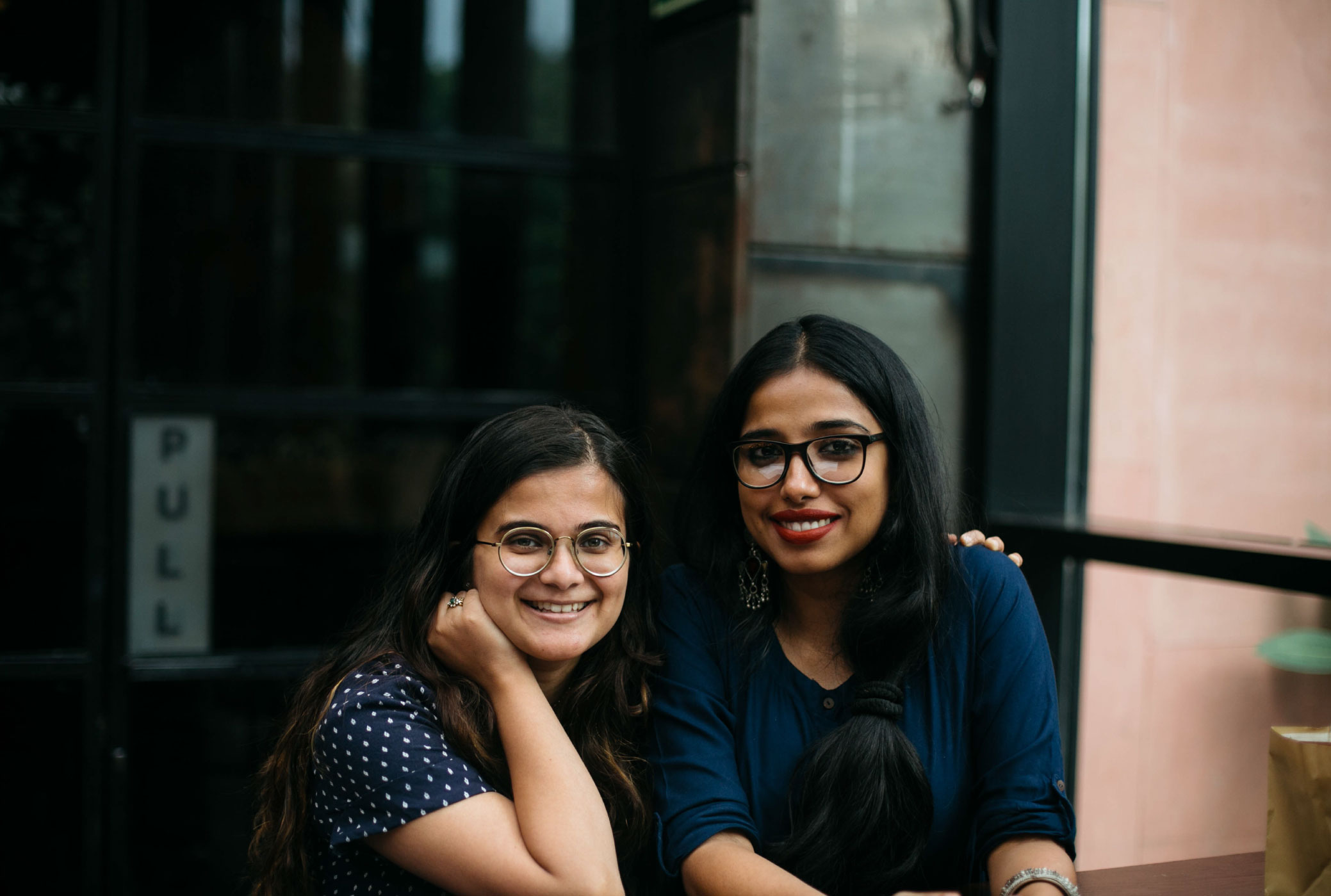 "Both of us love a good shakshuka – gooey, hearty, just a little bit spicy and extremely filling, it ticks all the boxes for a working lunch. This tends to be our go-to meal when we're cooking together in the middle of a work day because it is super easy, infinitely adaptable – not to mention, delicious".



Recipe for Shakshuka
Ingredients
• 4 eggs
• 2 tbsp vegetable oil
• 1 green capsicum, sliced thinly
• 1 small onion, sliced thinly
• 4 large tomatoes, diced roughly
• 2 cloves garlic, sliced thinly
• 3 red chillies, sliced thinly
• ¼ teaspoon cumin
• small bunch parsley, chopped
• small bunch coriander, chopped
• 1 tbsp vinegar
• 1 tbsp brown sugar
&bll; 100 gm crumbled feta
• salt and pepper to taste
Method
 Dry roast the cumin in a pan on low heat for 2-3 minutes until aromatic.
 Pour oil into the pan, wait for it to heat up and then add the onions, garlic and red chilies into it and sauté for 3-5 minutes.
 Add peppers, parsley, coriander (set some aside to garnish at the end), sugar, salt, and sauté on high heat for another 3 minutes.
 Add tomatoes, a splash of vinegar and season with salt and pepper.
 Cook on low heat until it gest to the consistency of a chunky pasta sauce (you need to add water to help it along).
 Make two nests in the tomato mixture for the eggs to be dropped into.
 Gently crack open an egg into each nest and let it cook for about 5-7 minutes, until the yolk just about sets but is still wobbly.
 Season the eggs if needed, and sprinkle with crumbled feta and coriander.
 Serve immediately with warm pita.

Suma Rowjee
YouTuber and Blogs at Cakes And More!


"Simple everyday dishes like rasam, chutneys and the kind are my idea of comfort food as I grew up eating these as a kid. These bring back memories of the aroma of the food cooked on wood fire in my grandmother's huge kitchen in the village. I still remember the way the humble rice and rasam would taste even better when my mother 'mixed' it for me. And then all in my world was well. Here is a simple recipe for a yogurt-based dish, something my mother would often make if she needed something extra in a jiffy. There is no cooking involved which is why it is called Hasi Majjige. Flavourful, cooling and light, it is perfect to go with steamed rice on a hot summer day!



Recipie for Hasi Majjige (No Cook Coconut and Yogurt Gravy)
Ingredients:
 Grated fresh coconut - 3/4 cup
 Roasted Bengal gram / dalia - 1 teaspoon ( 2 teaspoons if you prefer a thicker gravy)
 Mustard seeds, coarsely ground - 2 teaspoons
 Green chilies - 2 (more if you want it spicier)
 Fresh coriander, chopped - 2 tablespoons
 Fresh thick yogurt - 1 1/2 cups
 Asafoetida powder / hing - A pinch
 Salt to taste
 Water - 1/2 to 3/4 cup as needed
For the tempering:
 1 teaspoon oil
 1 teaspoon mustard seeds
 1 teaspoon urad dal
 A few curry leaves
 A dash of hing
 Turmeric powder - a small pinch
Method:
• Grind the fresh coconut, mustard powder, asafoetida, chilies, Bengal gram and coriander to a smooth paste using very little water.
• Take the yogurt in a bowl. Add the ground paste, salt to taste and whisk until well combined.
• Add about 1/2 cup water to thin it down. I usually have some coarsely ground mustard seeds in my fridge. If you would be using seeds, it is a good idea to process only the seeds first in the smallest jar of your blender and then add the rest of the ingredients for the paste.
• Heat the oil for the tempering. Add the mustard seeds. When they splutter, add the urad dal, saute till it turns a golden color. Add the curry leaves, hing, saute for a few seconds. Add the turmeric. Pour this over the yogurt gravy, mix. Serve with hot steamed rice.

Vernika Awal
Independent Journalist and Food Writer
Blogs at Delectable Reveries


"I belong to a vegetarian family which hails from Punjab and boy do we love our dals and subzis. One of my favourite dishes is the 'maah di daal'. I used to watch my Naani and my mom make it with a lot of patience (and no cream!) and it was one dish that I wanted to learn and replicate in my kitchen. 'It's creamy. It's rich. It's delicious' – that's how I'd pitch a tagline for maah di dal, if I was ever asked to. A dish that requires immense amount of patience and love for cooking, this is one recipe which is truly special to me. I first learnt to make this dal when I was 15 and since then I've only gone on to nail it and proudly exclaim that I do a pretty good job of it! This is a go-to dish for me when I seek comfort in food - at home or outside. This goes best with tandoori rotis or steamed rice, but if left to me, I can polish off just bowls of it without any accompaniment.



Maah ki Daal
Ingredients
• Urad dal 1 cup
• Chana dal 1/2 cup
• Rajma 1/2 cup
• Onion paste 1 cup ( 2 onions)
• Tomato paste 2 cups ( 4 tomatoes)
• Garlic paste of 8-9 pods
• Ginger paste of 1 small piece
• Bay leaf 1
• Badi elaichi/ black cardomom 1
• Star anise 1
• Ghee 3 tbsp
• Salt To taste
• Coriander powder 1 tbsp
• Chilli powder 1 tsp
Method:
 Soak urad dal, chana dal and rajma overnight. Next day, boil them with salt, in a pressure cooker for 4-5 whistles.
 In a hot pan, add ghee, bay leaf, star anise and black cardamom
 Add ginger and garlic paste and cook this till the raw smell disappears
 To this, add onion paste and cook till it browns
 Add tomato paste in the end and then add coriander powder and chilli powder
 Add the boiled dal to this paste and cook on a slow flame for at least 4 hours, till the dal begins to thicken.
 Serve this with steamed rice or hot chapatis.